Get ready and indulge this Christmas with our special 2019 winter range of promotional chocolates, sweets and confectionery. 
Branded advent calendars ensure that your customers see your name for weeks on end and they're a great way to give customers and staff a long-lasting sweet treat! Our chocolate advent calendars are filled with delicious solid Belgian milk chocolates that are guaranteed vegetarian, halal and kosher. We can supply promotional 12-Day Advent Calendars (12 chocolates), Desktop Advent Calendars (24 chocolates) or Traditional Advent Calendars (25 chocolates), and there's a range of attractive Christmas designs to choose from.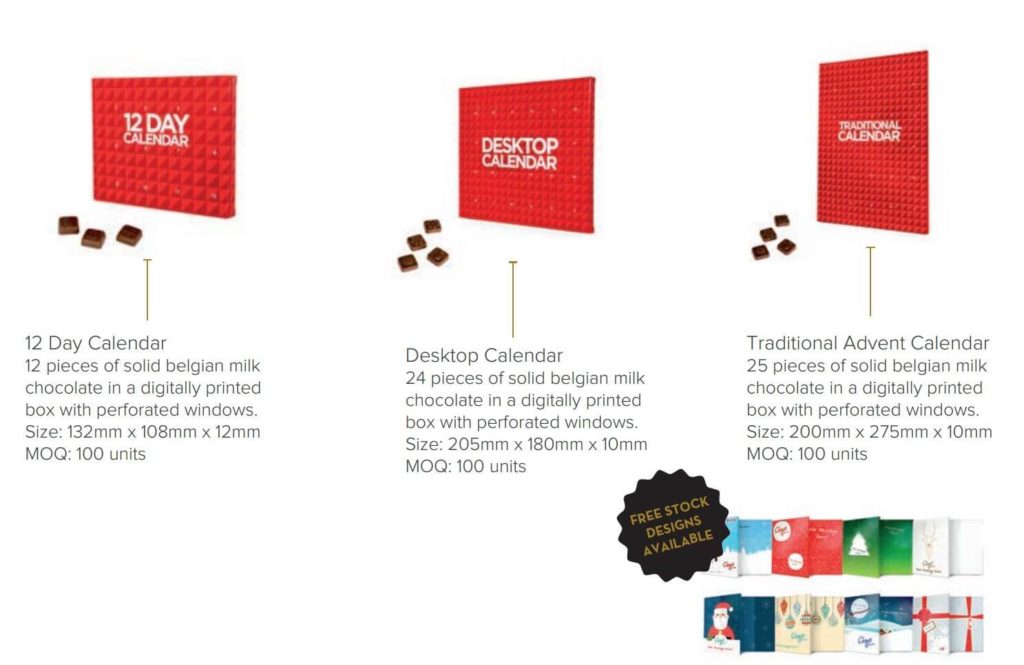 Gifts for a Greener Christmas: Eco-Friendly Promotional Items
Christmas can be really bad for the environment, with packaging and waste galore. So, with everyone striving to be more eco-conscious these days, why not give eco-friendly Christmas gift? Our Eco Info card features a card made from recyclable cardboard and an attached treat bag made of a compostable eco-film, which is produced from eucalyptus trees! Fill the bag with your choice of foil-wrapped festive chocolate sprouts, foil-wrapped chocolate balls in gold or silver, or shiny chocolate honeycomb pieces. Your staff or customers get a tasty treat and you get to feel good that your gifts are kind to the environment!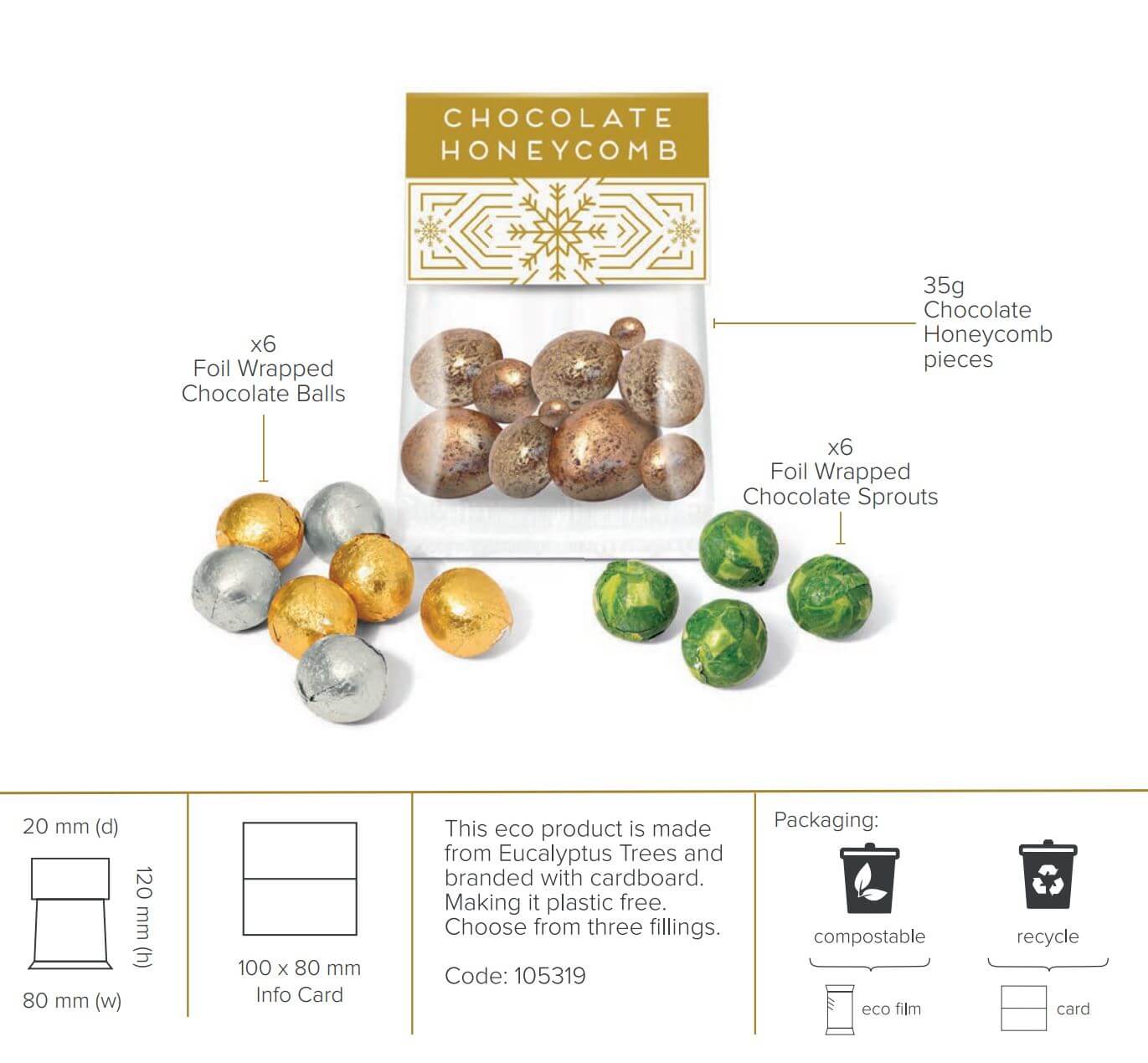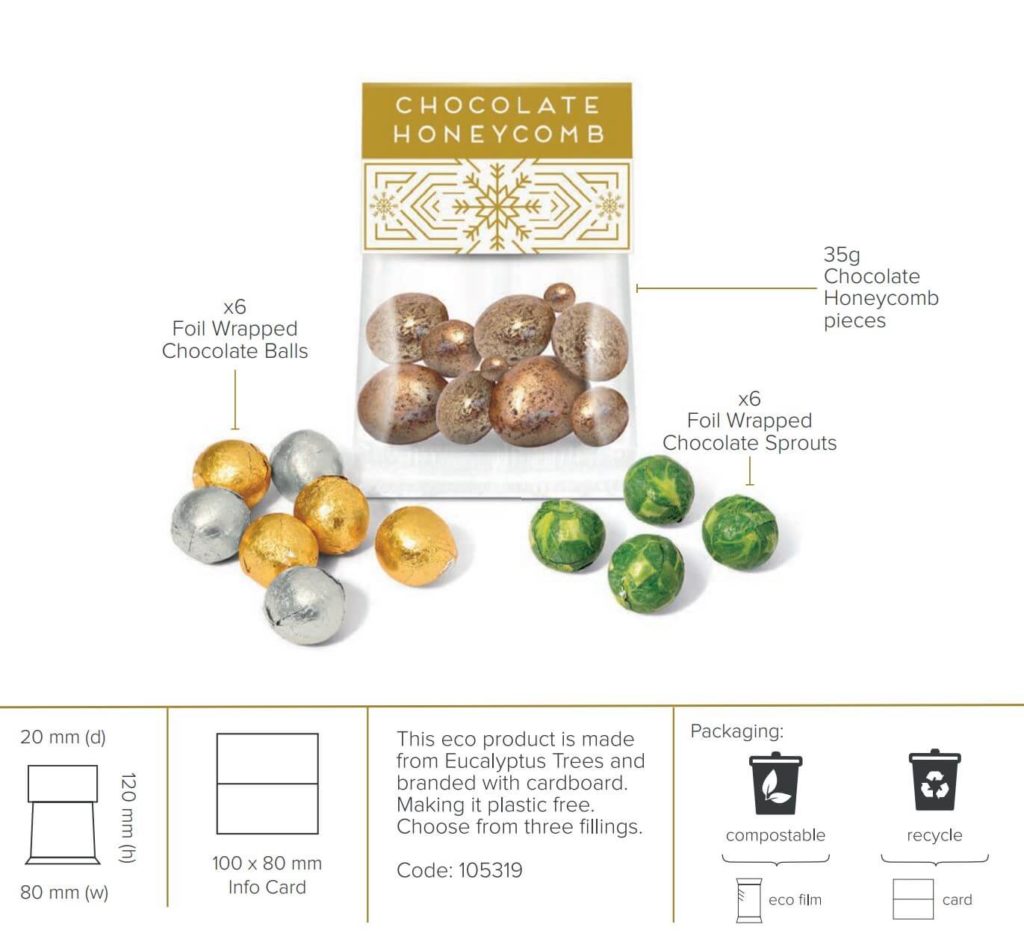 You might want to opt for the Eco Kraft Cube instead, which can be filled with foil-wrapped chocolate balls, or sprouts, or Celebrations chocolates instead, which always go down well! The cubes have a branded paper wrap for your logo or message.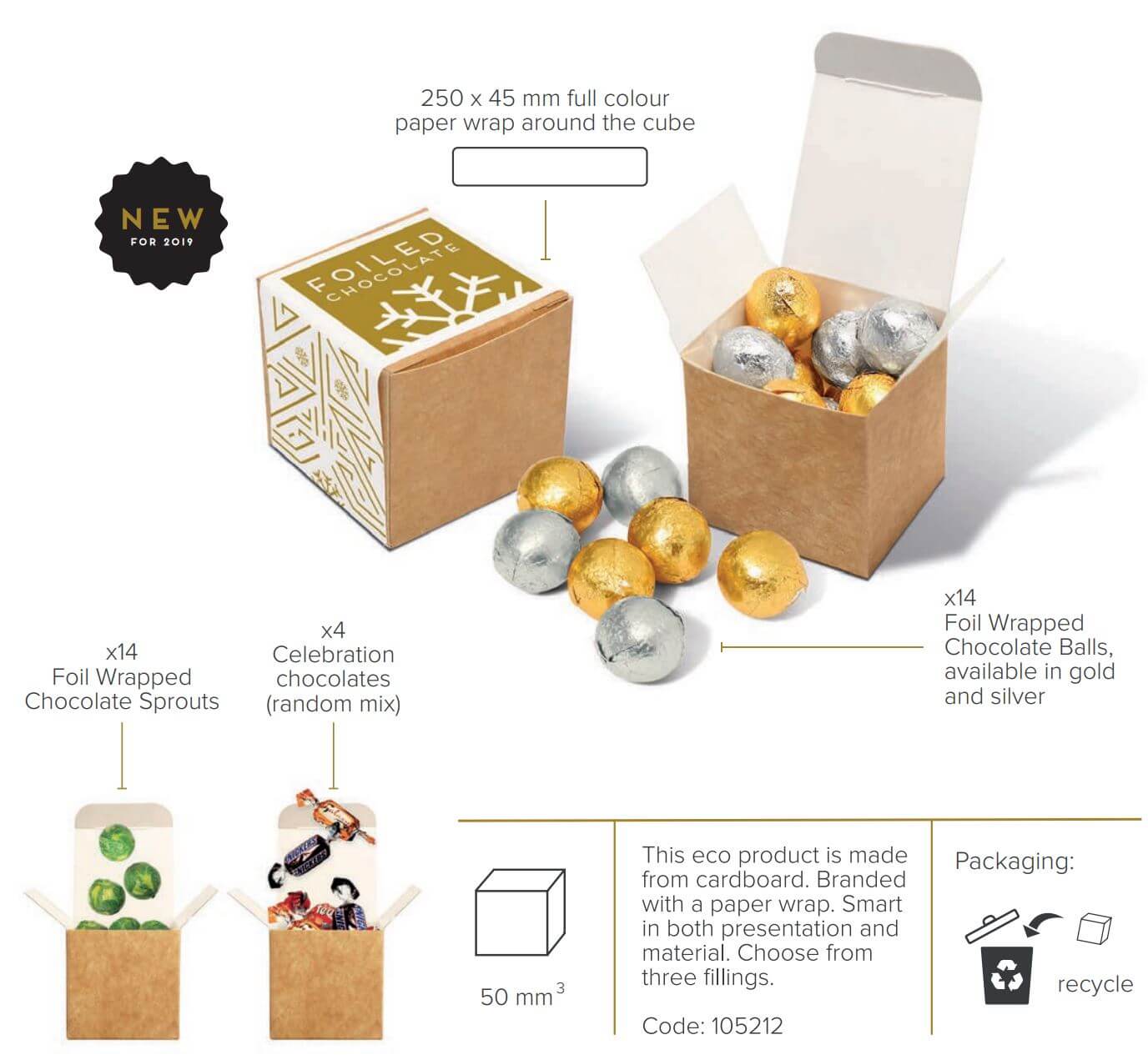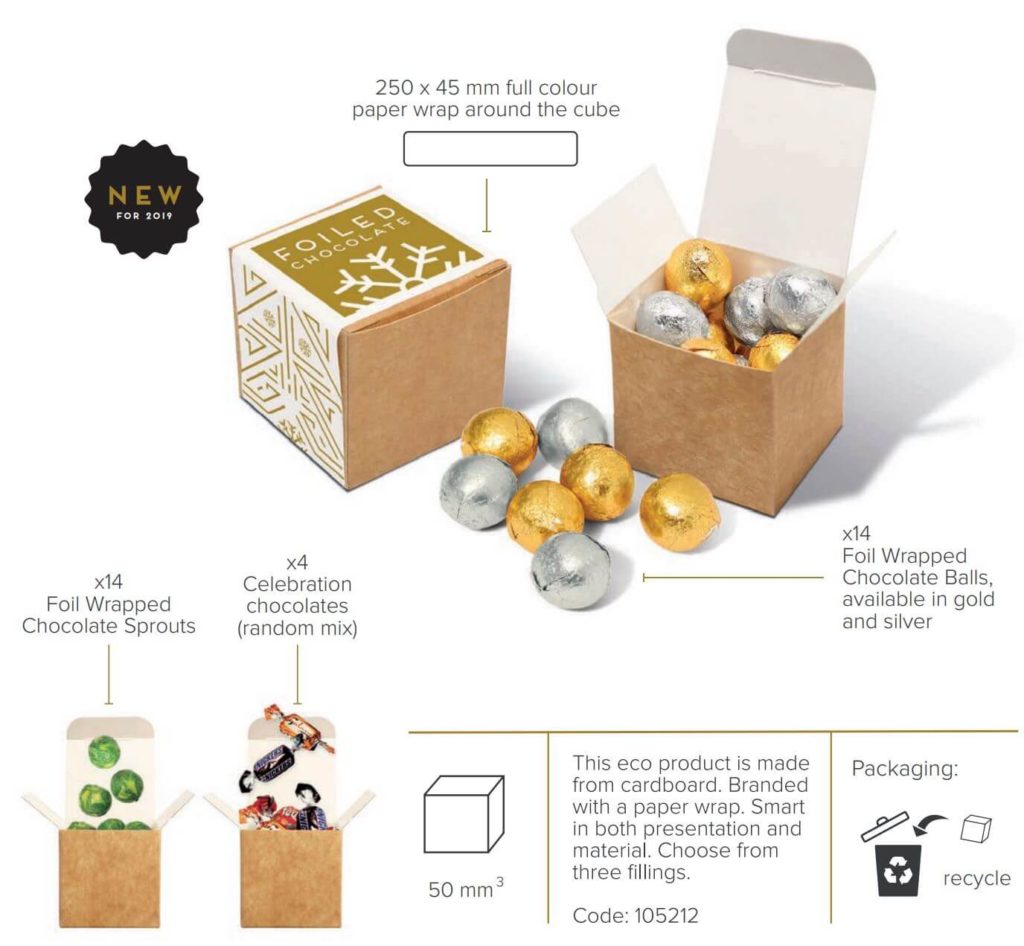 We all want some figgy pudding, we all want some figgy pudding… fudge! Fudge is a firm festive favourite, but we've given it an extra twist for Christmas: the fudge in our Ballotin boxes is Christmas-pudding-flavoured! This delicious festive fudge, in our luxurious shiny gold Ballotin boxes tied with white ribbon, makes a gift that tastes as good as it looks–and there's a gift tag just waiting to be branded with your logo.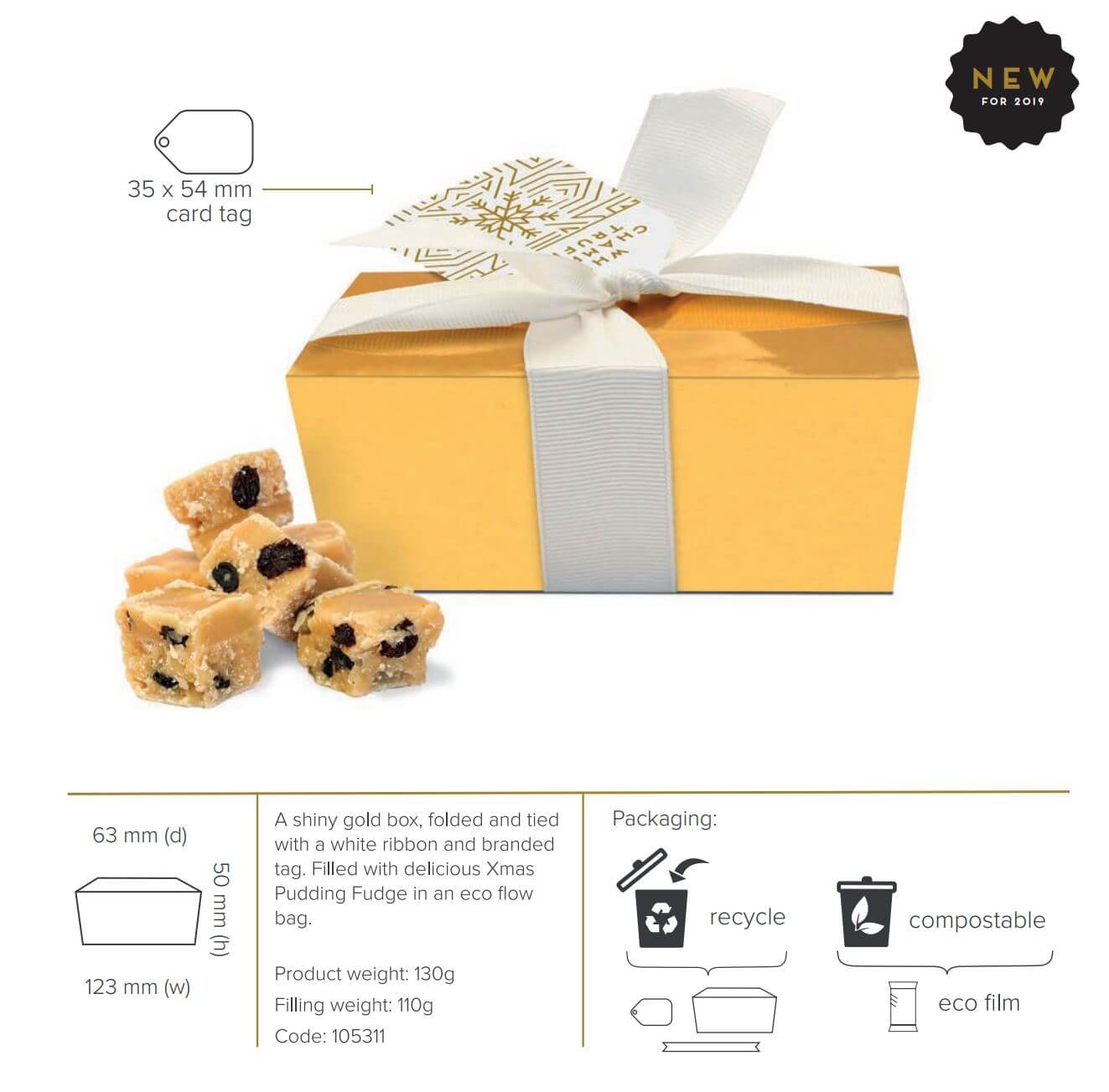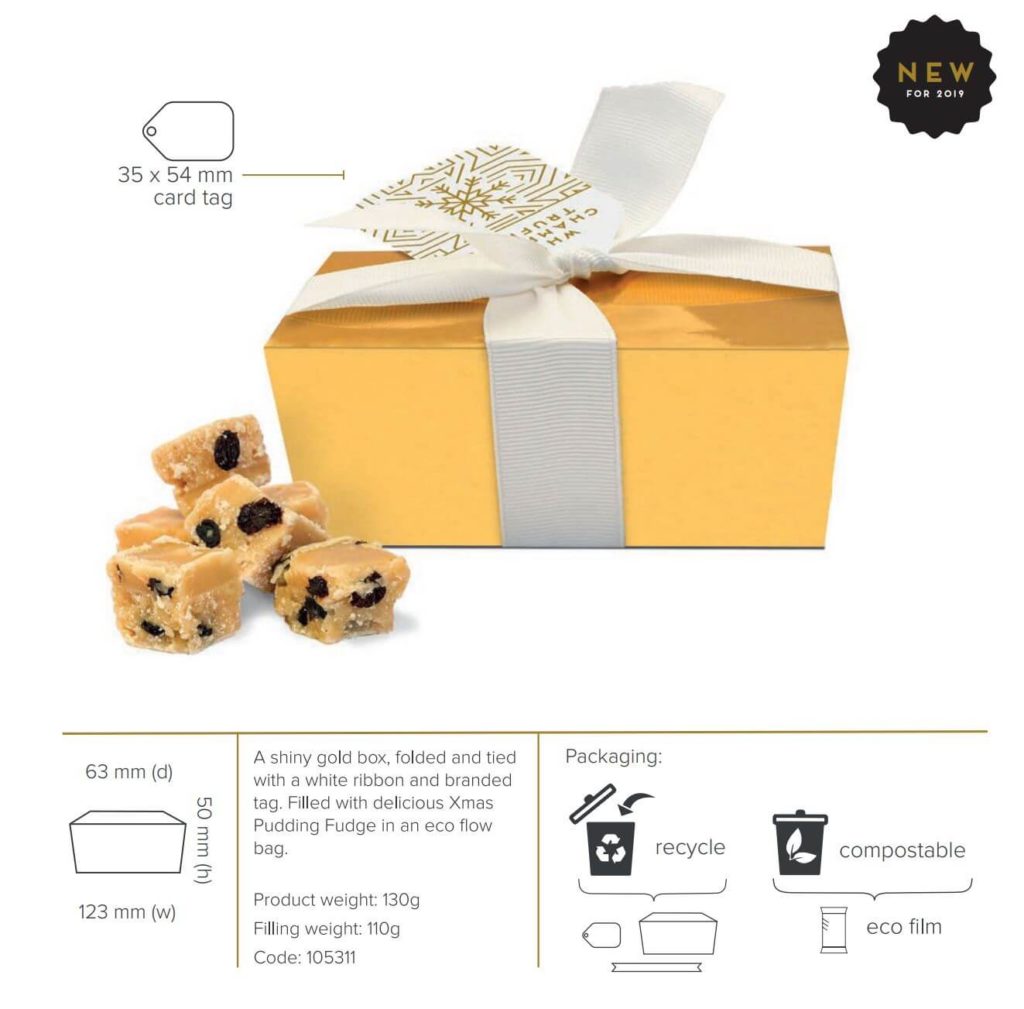 Another luxurious gift is our lovely Bauble Tin, decorated with snowflakes and gold stars. It comes filled with foil-wrapped white chocolate champagne truffles and a hanging ribbon so that recipients with willpower can hang their chocolate-filled bauble on the tree and wait until the big day to open it! It looks great on the tree and can be refilled and reused next year, too.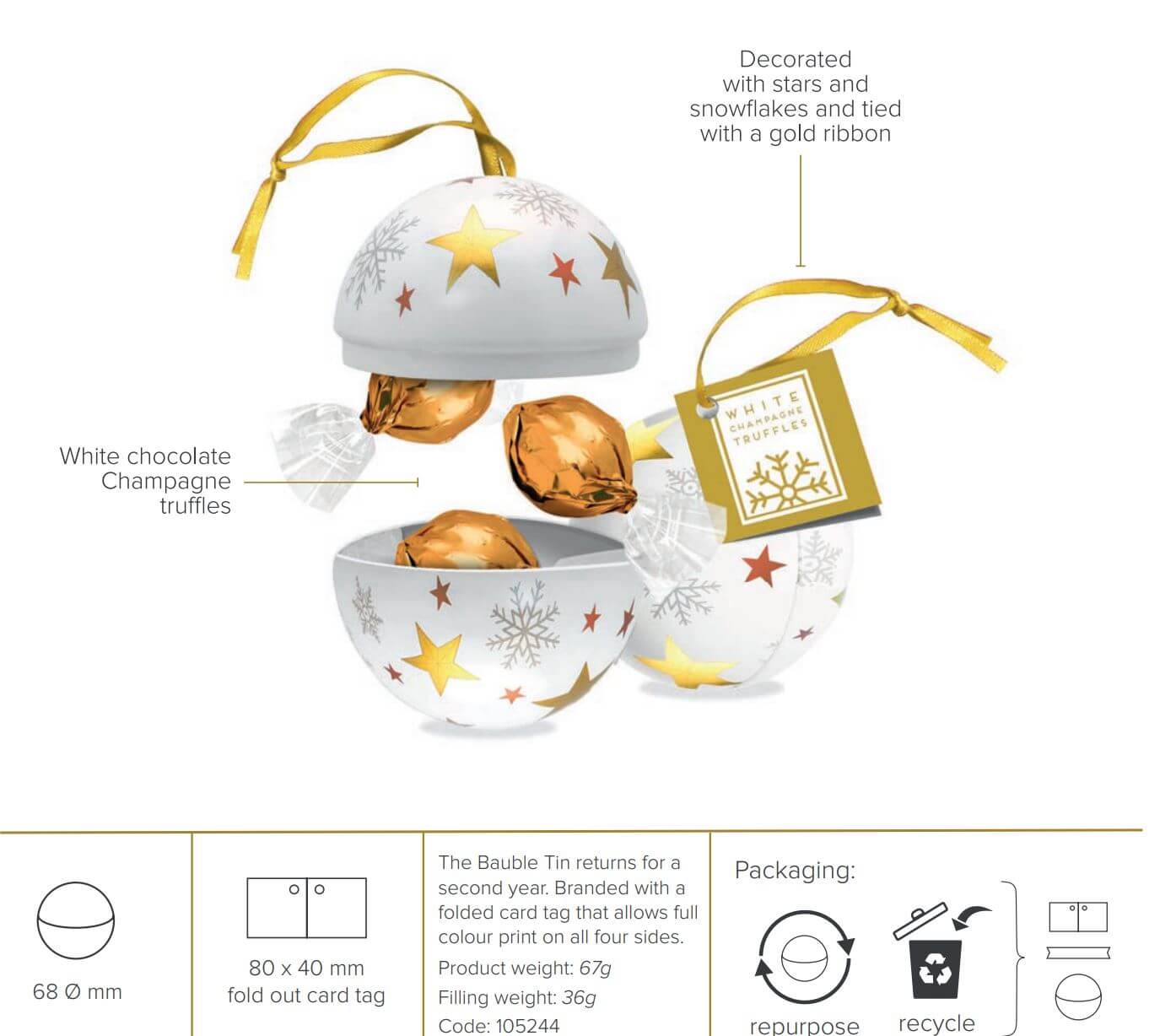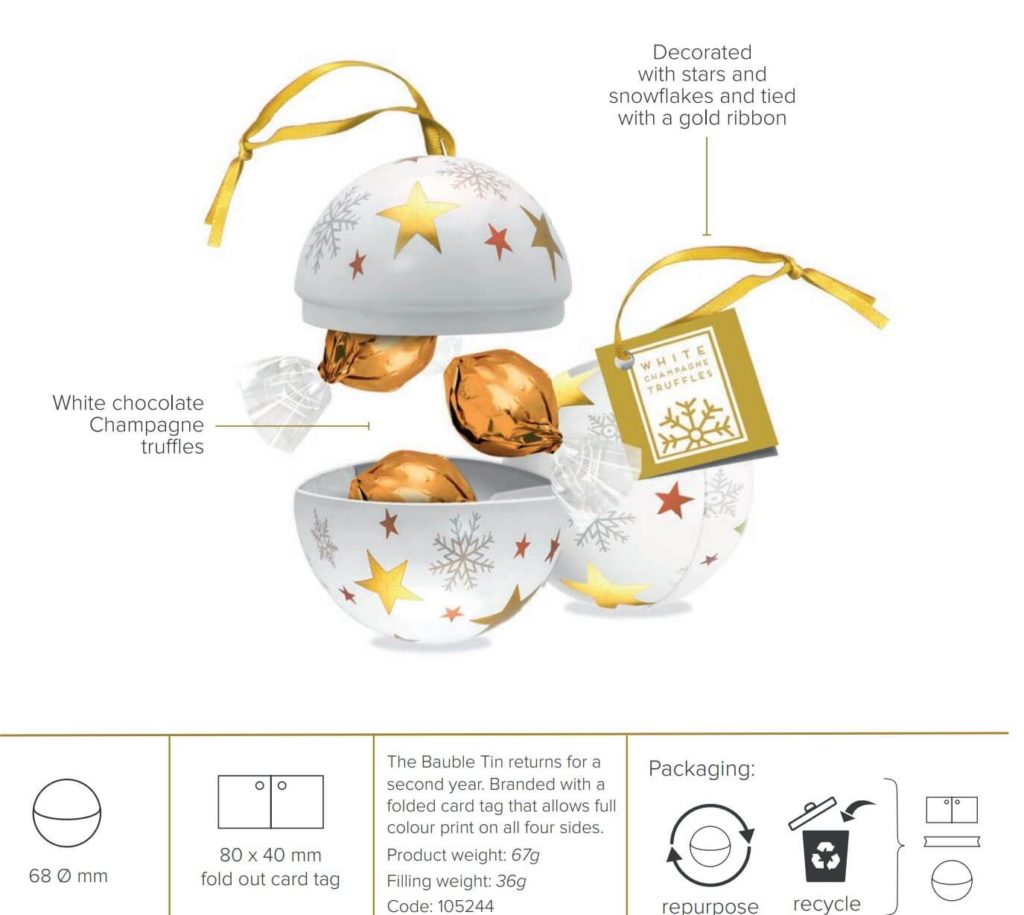 Christmas Chocolate Treat Bags, Tins and Trays
Our beautiful, chocolate-filled organza bags have a ribbon closure and are available in nine colours, so there's bound to be one that matches your branding perfectly. They can be filled with silver and gold foil-wrapped chocolate balls, chocolate sprouts or silver and gold foil-wrapped chocolate coins, while the attached gift card can be branded with your logo or message.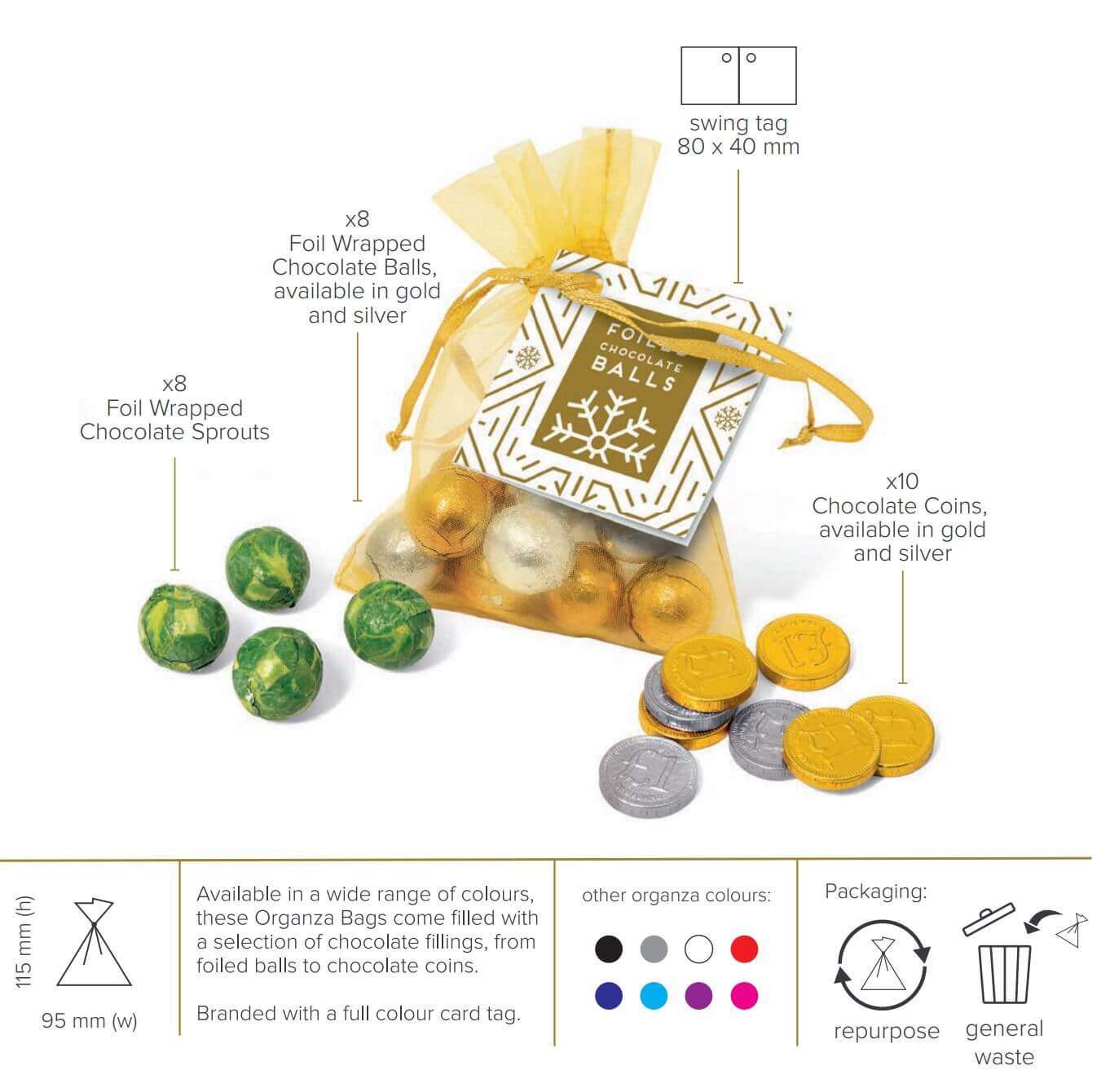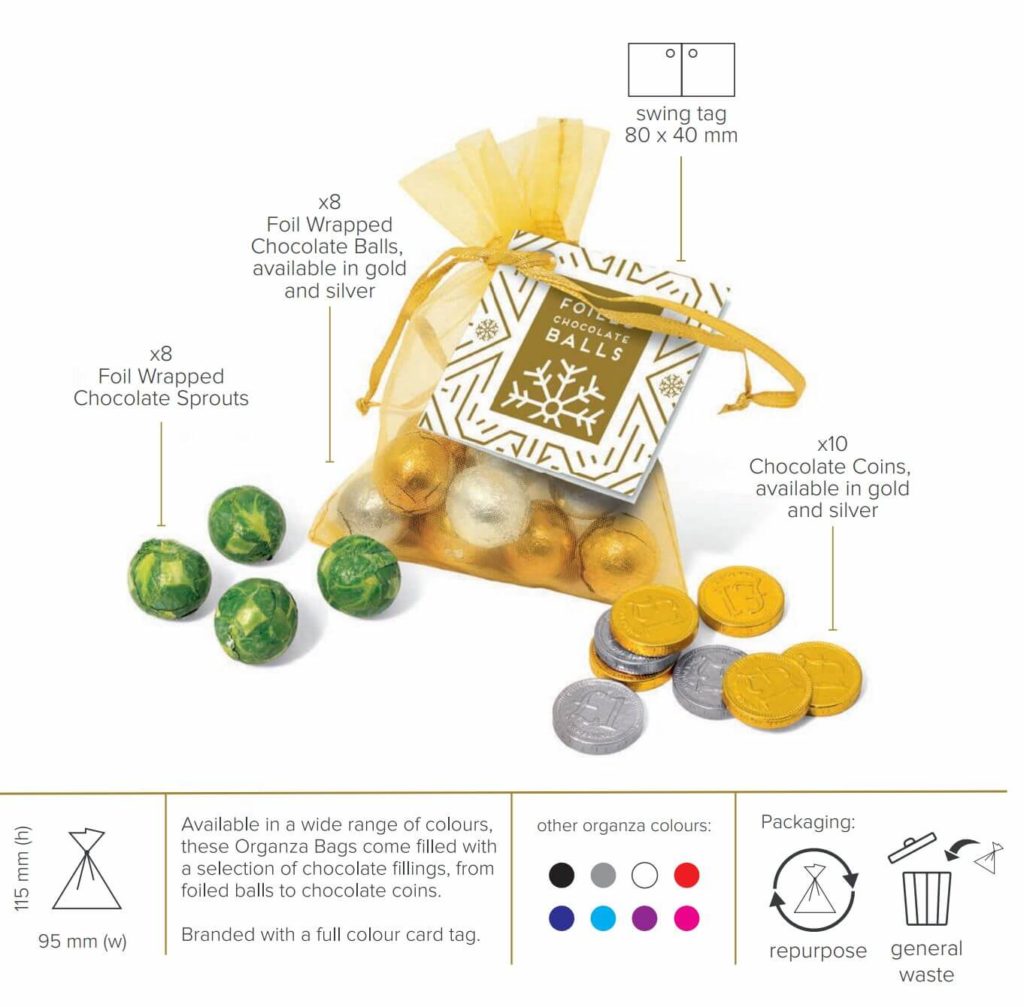 If you'd prefer to give a tin of chocolates, our festive-themed mini Star Tins or Tree Tins are ideal. They're filled with shiny gold and silver chocolate balls and branded with a full-colour dome label. Not only are the tins reusable, but you can also repurpose them as Christmas cookie cutters!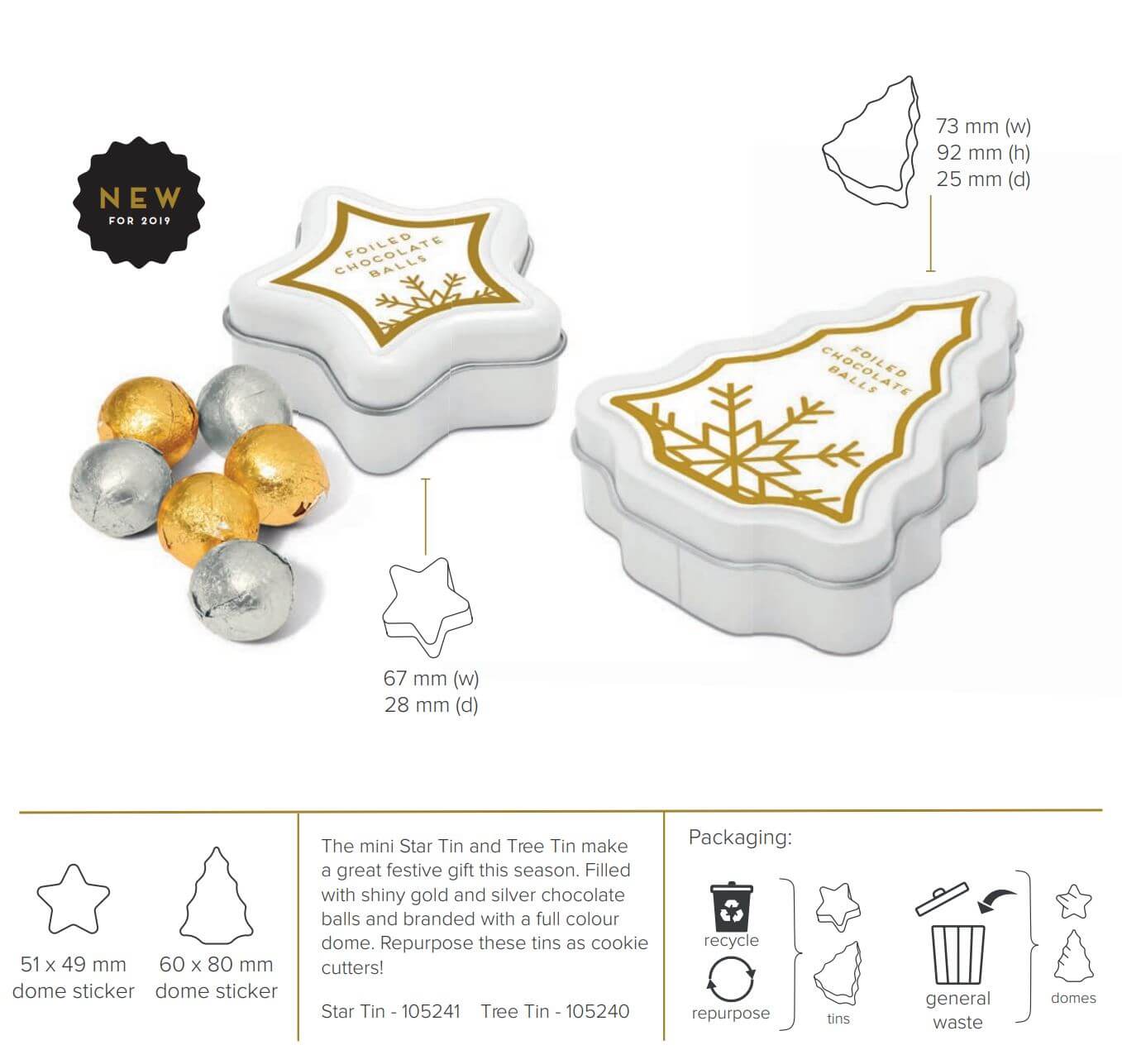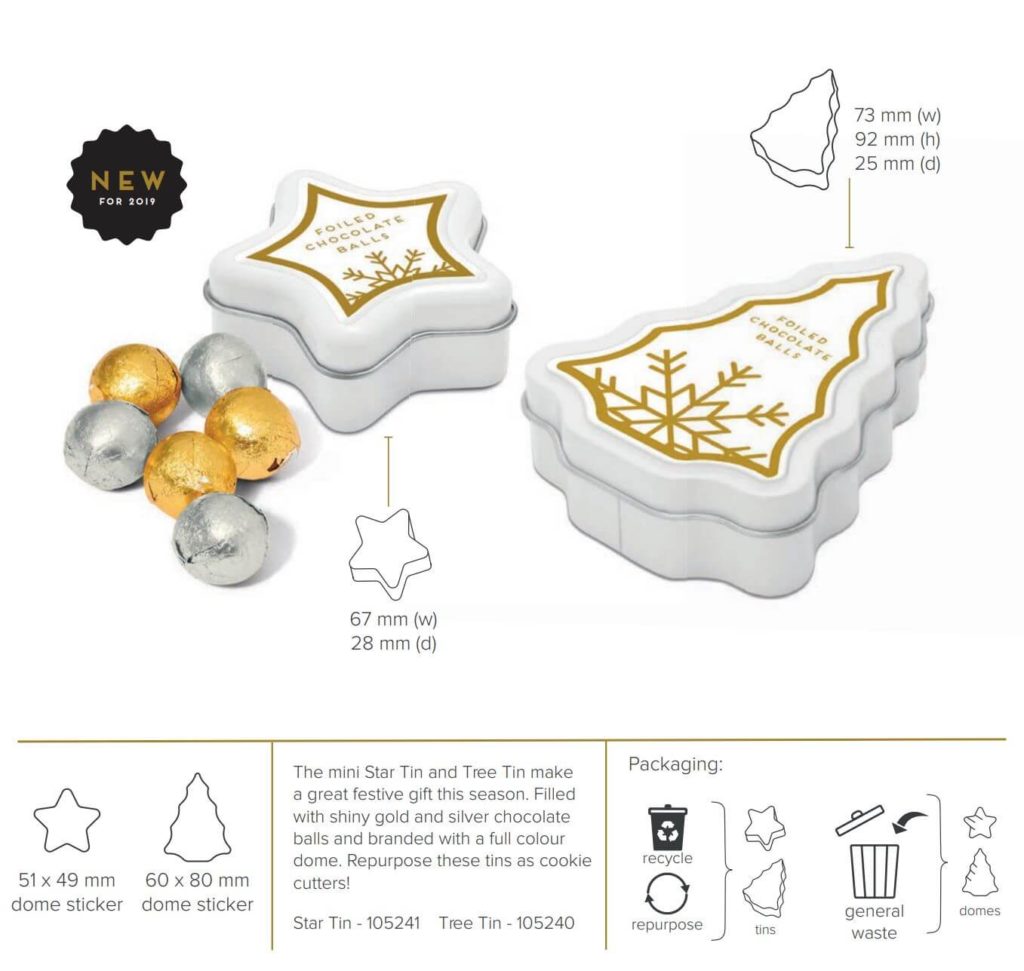 Christmas Chocolate Trays
We also offer branded trays of Christmas chocolates. Beautifully made Christmas pudding and Santa chocolates will get everyone in the festive spirit, or you can choose the champagne truffles or salted caramel squares for a touch of luxury. The clear film cover can be branded with a full-colour digital print, ensuring recipients don't forget who sent them this delicious treat!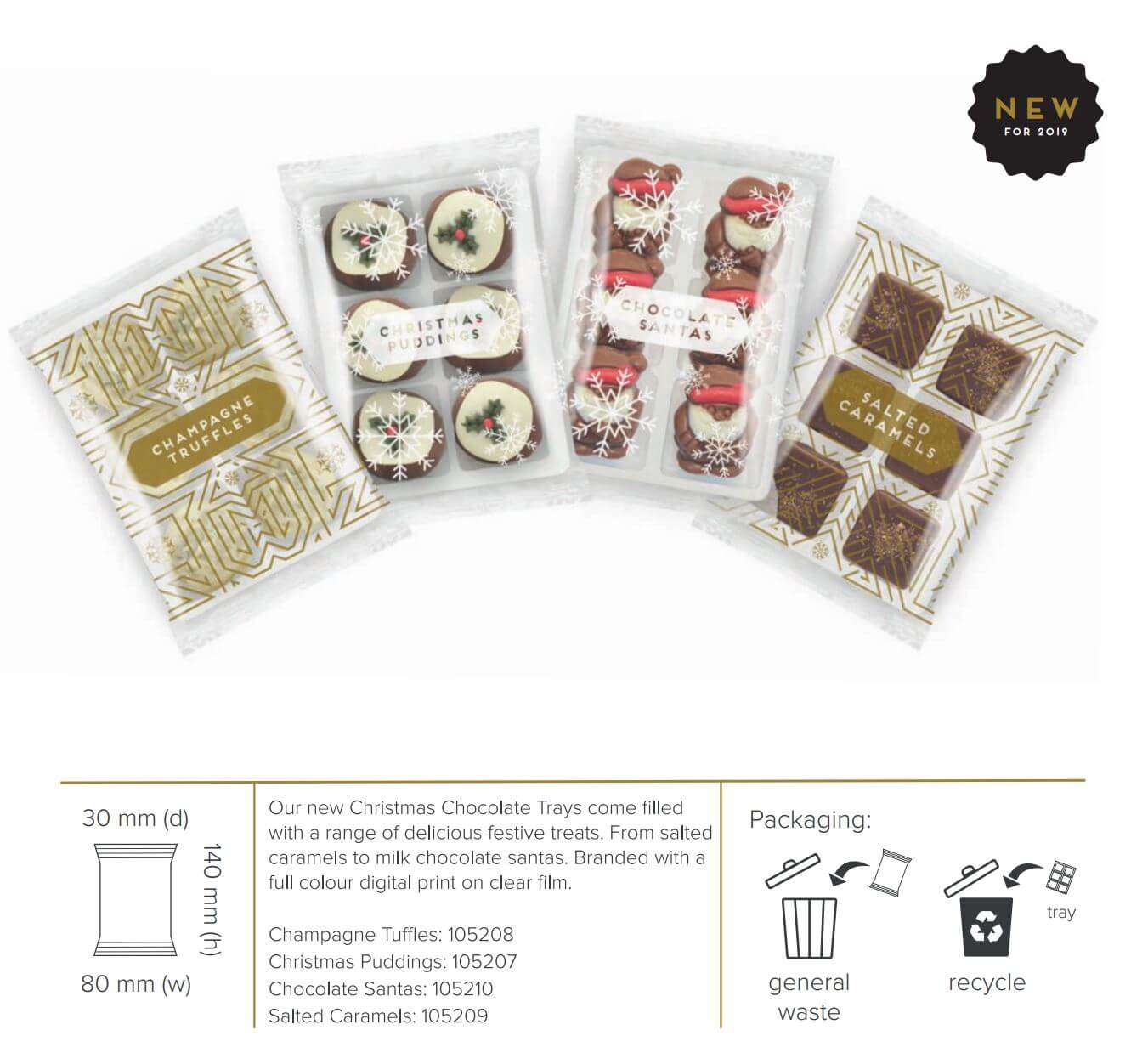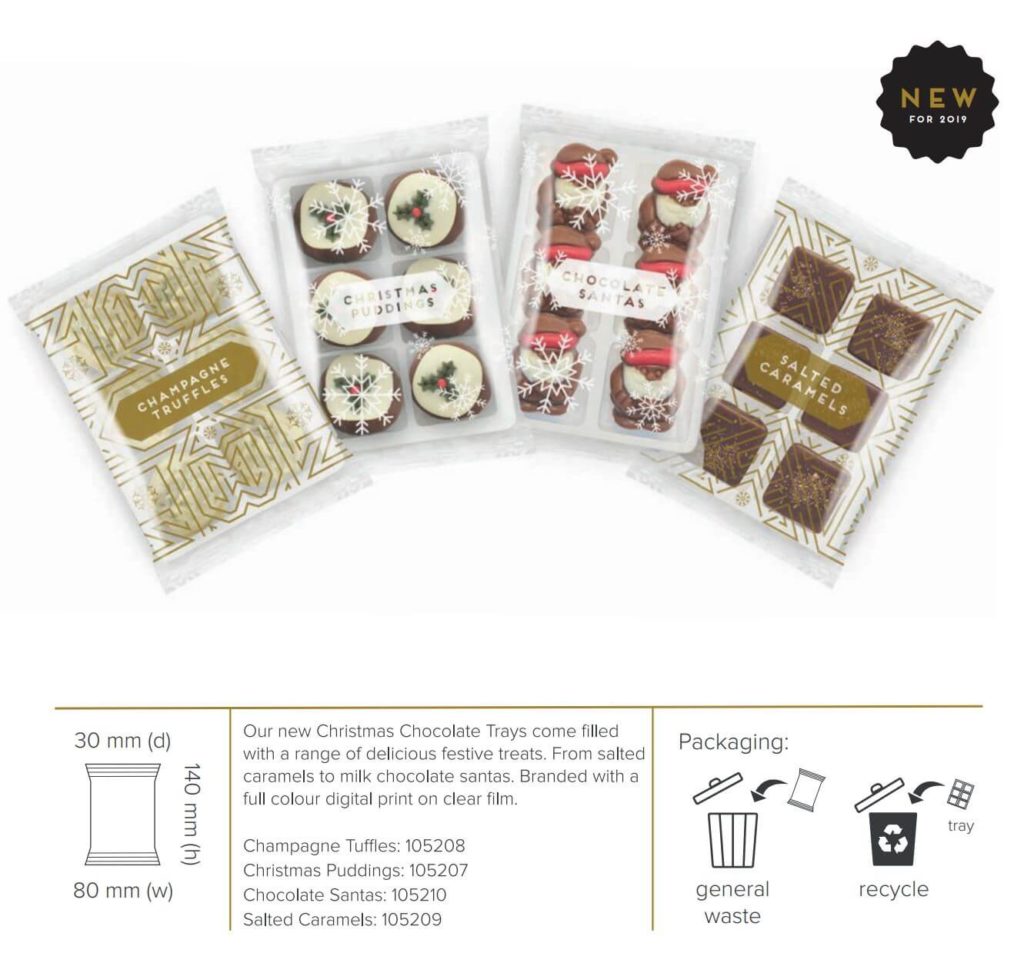 Christmas pies and biscuits
Of course, not everyone can eat chocolate—and some people don't like it! If your recipients fall into either of these categories, or you just want to give something different, then we've got you covered with our promotional Christmas gifts. Nothing quite says Christmas like mince pies, so why not put staff and customers in the seasonal spirit with a branded tin of these festive favourites? Our promotional Snack Tin filled with four mini buttered mince pies is just the ticket if you're looking for small gifts.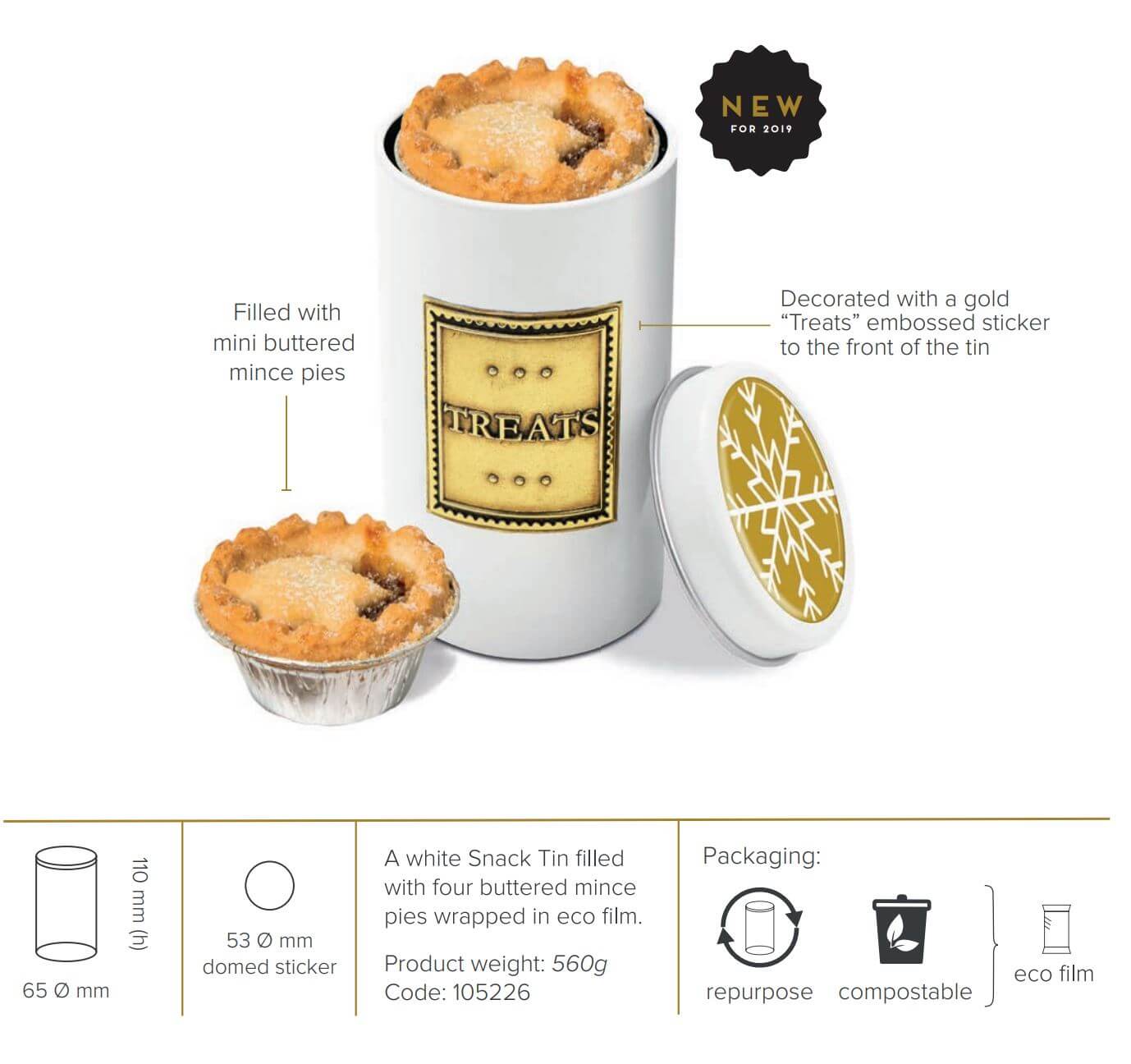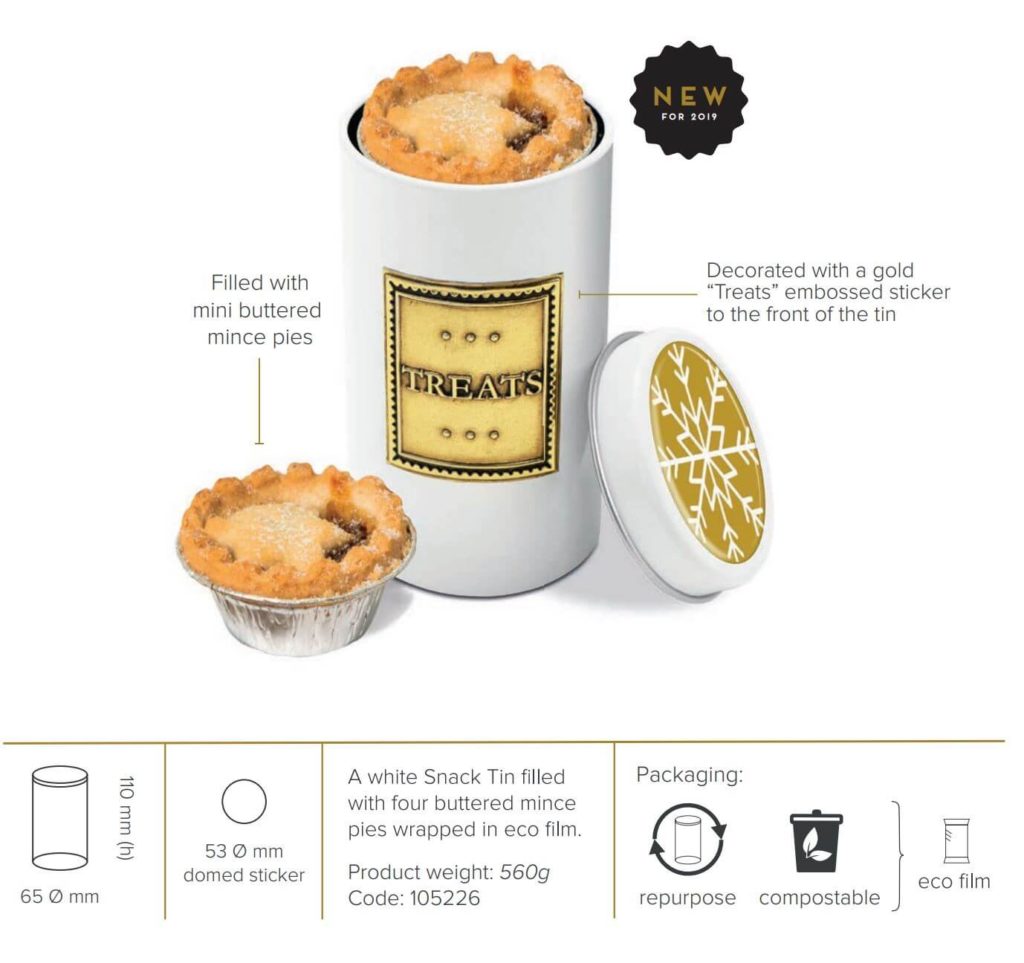 Mince pies are also available in these striking square gold tins decorated with black ribbon. Available in two sizes (196g and 325g), these tins are branded with a full-colour domed label and can be repurposed after all the delicious pies are gone (so quite quickly, then!).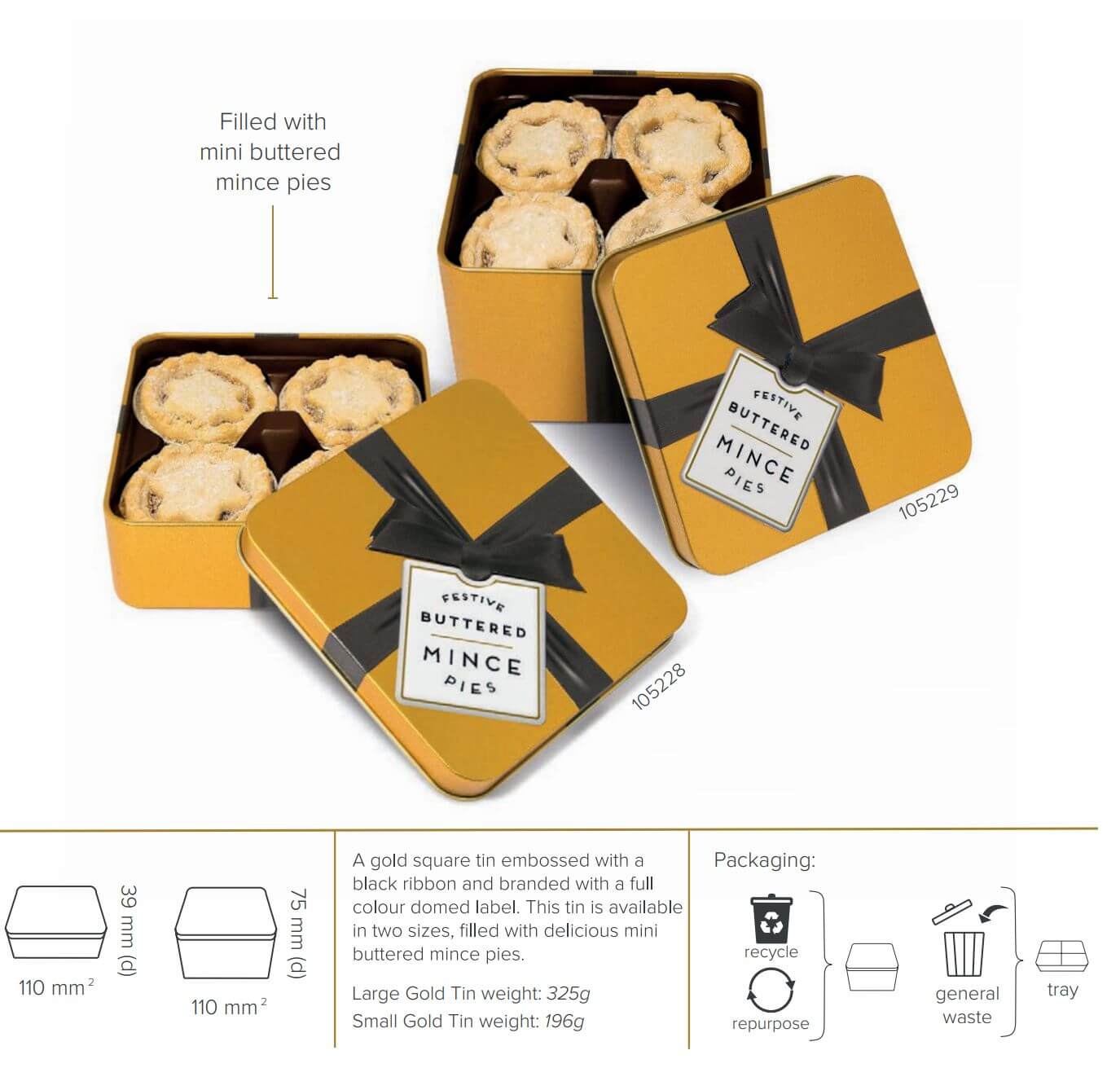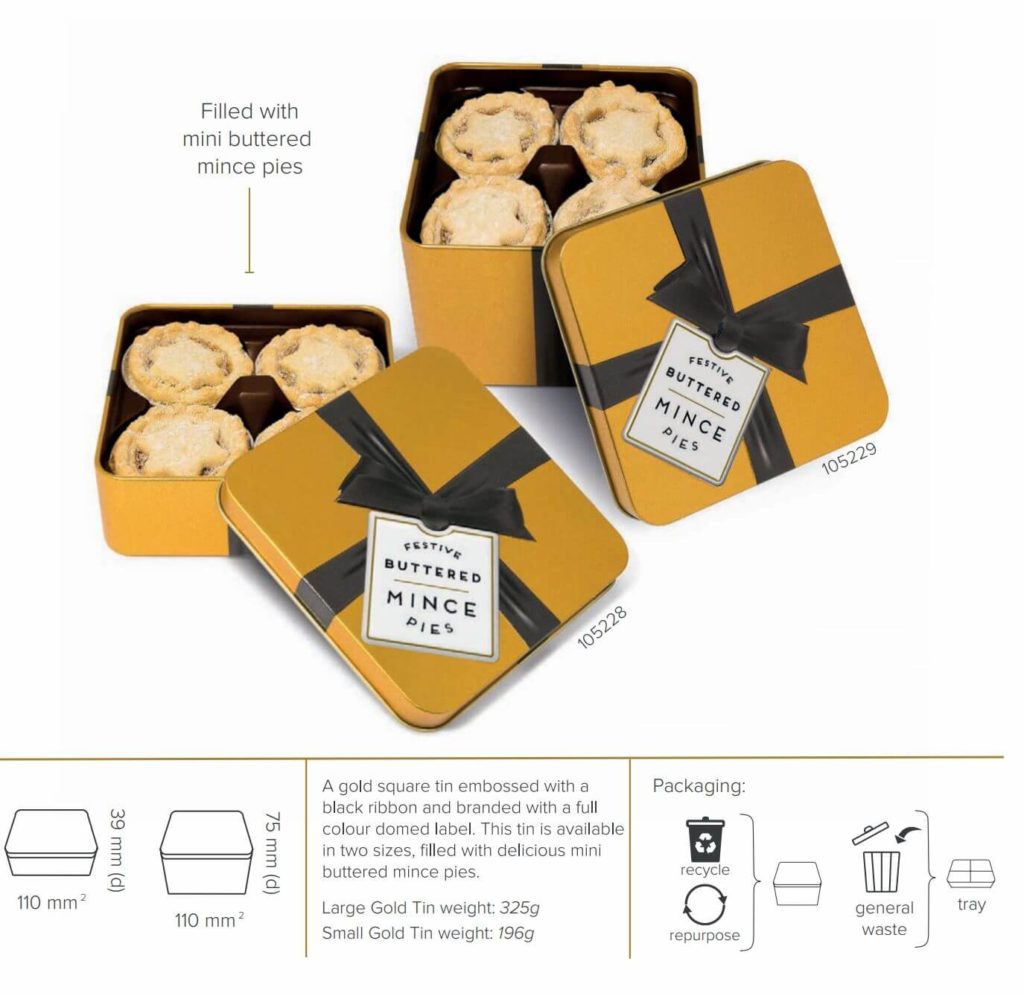 And for those who don't like chocolate or mince pies (we're reliably informed these people do exist!), consider biscuits. Our Treat Tins, available in two designs, can be ordered with Celebrations, Quality Street or—ta-da!—mini buttered shortbread biscuits.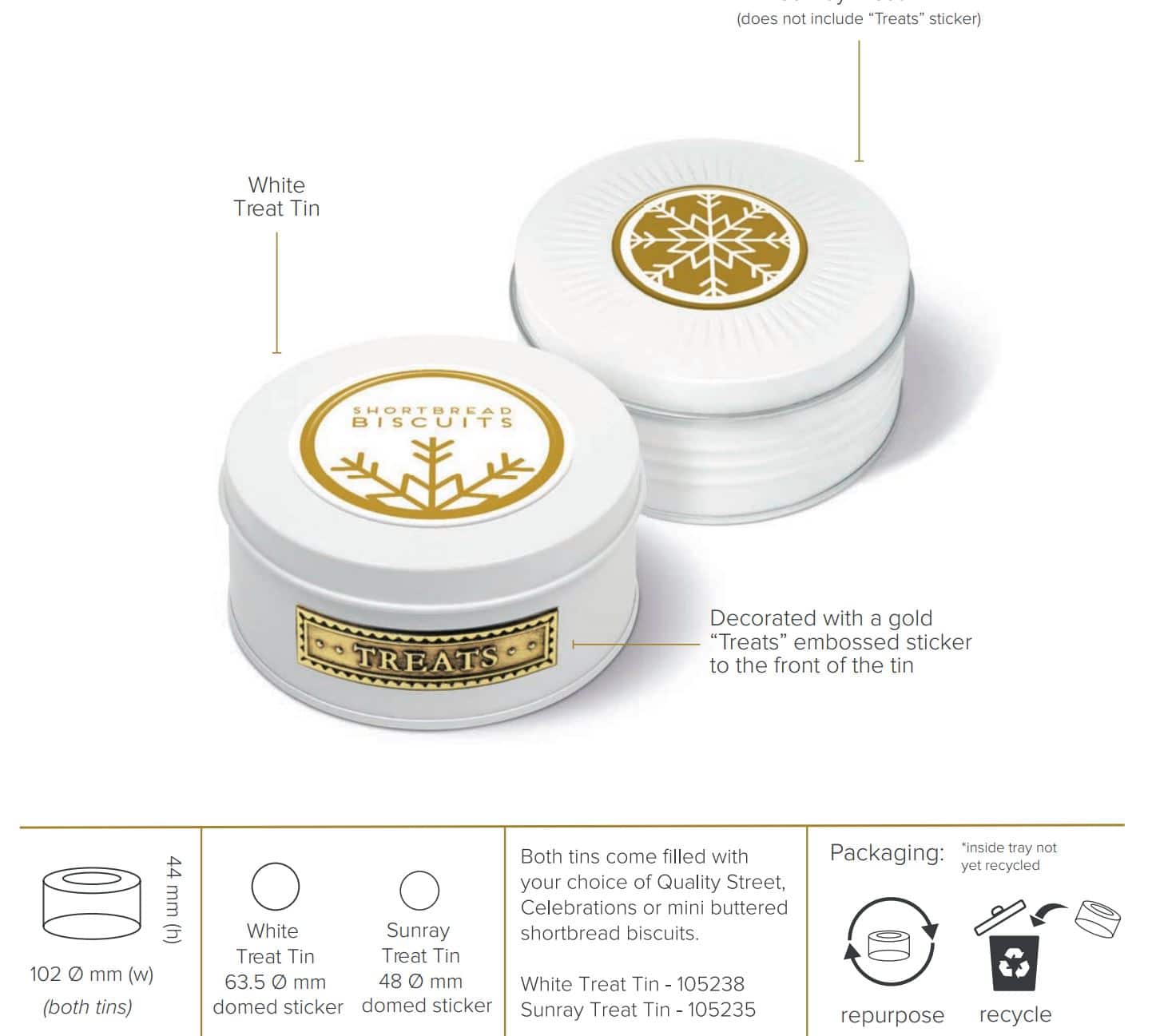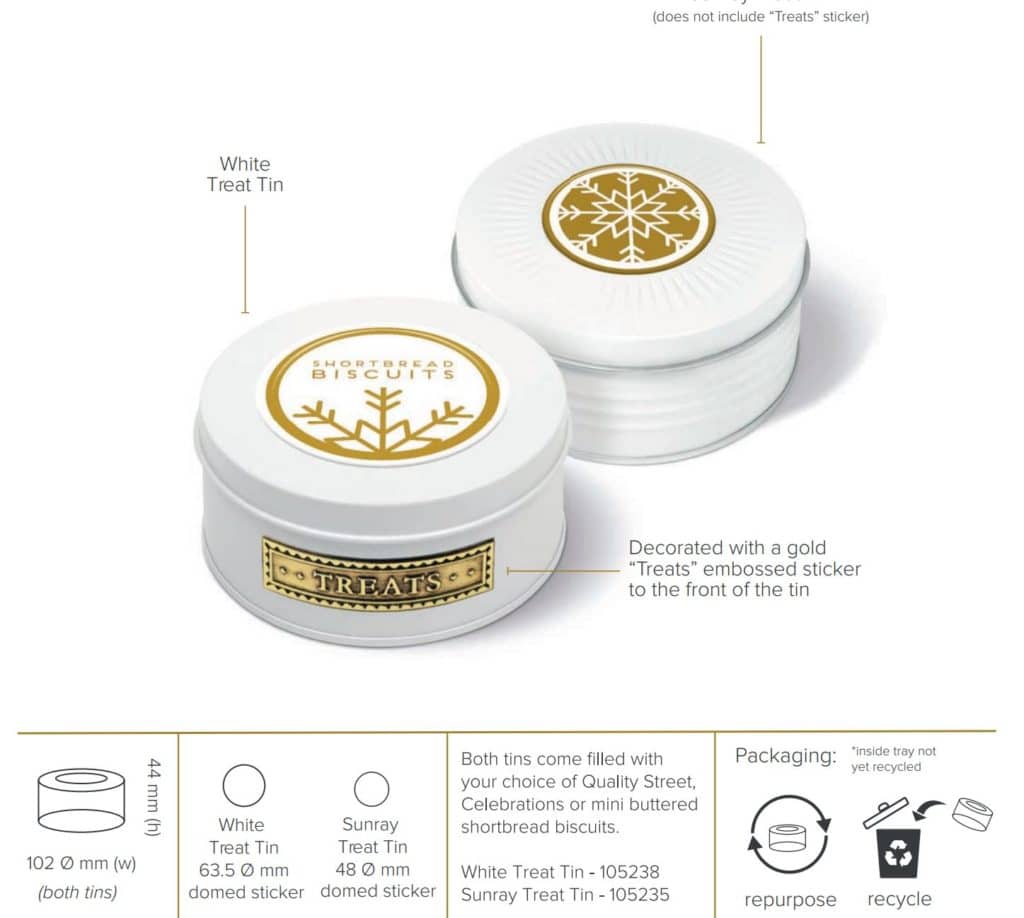 For a more generous gift or an office gift for everyone to share, we also offer Sunray Share Tins, which can be filled with Belgian chocolate cookies or mini butter shortbread biscuits and branded with an eye-catching, full-colour domed sticker.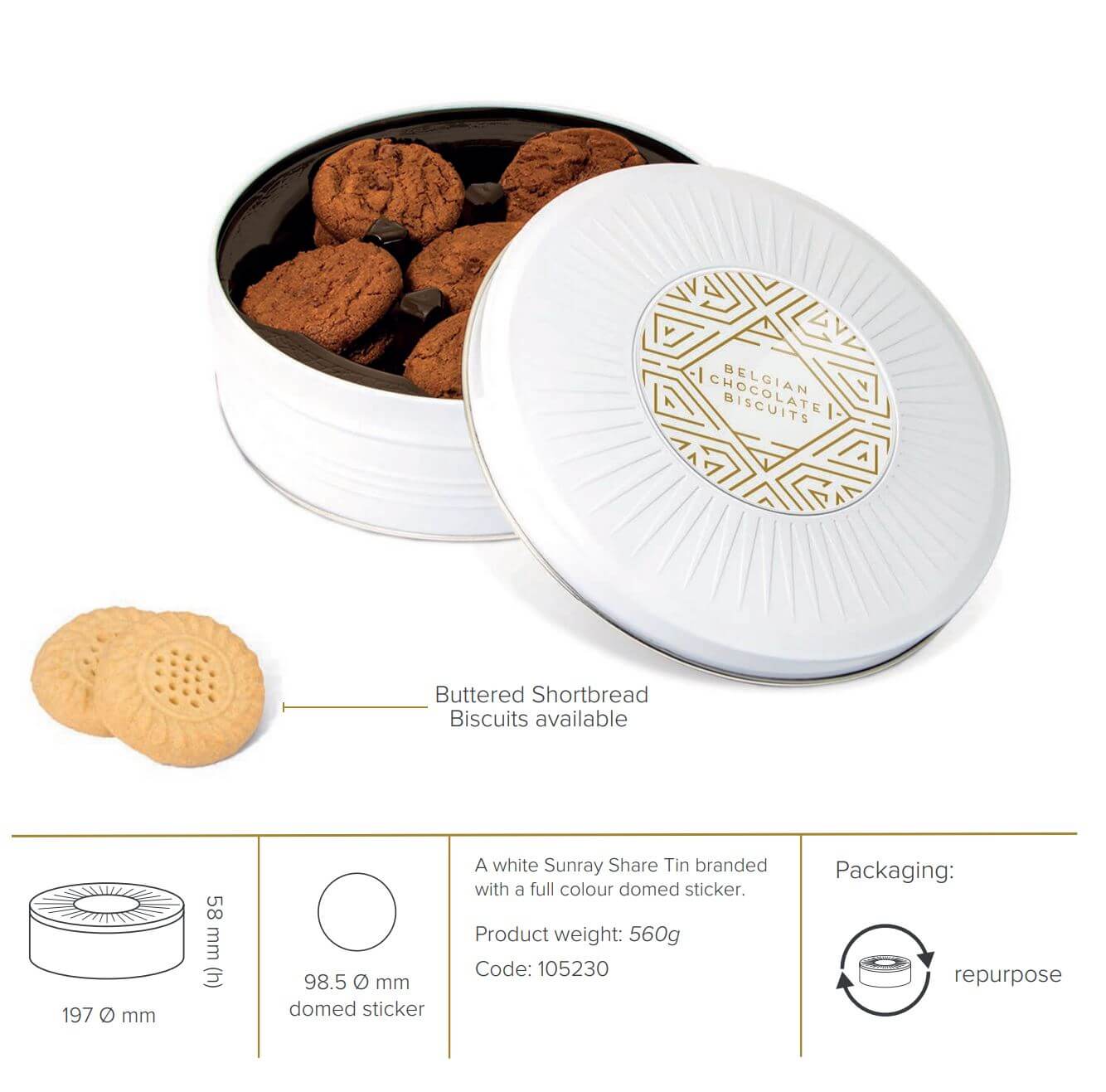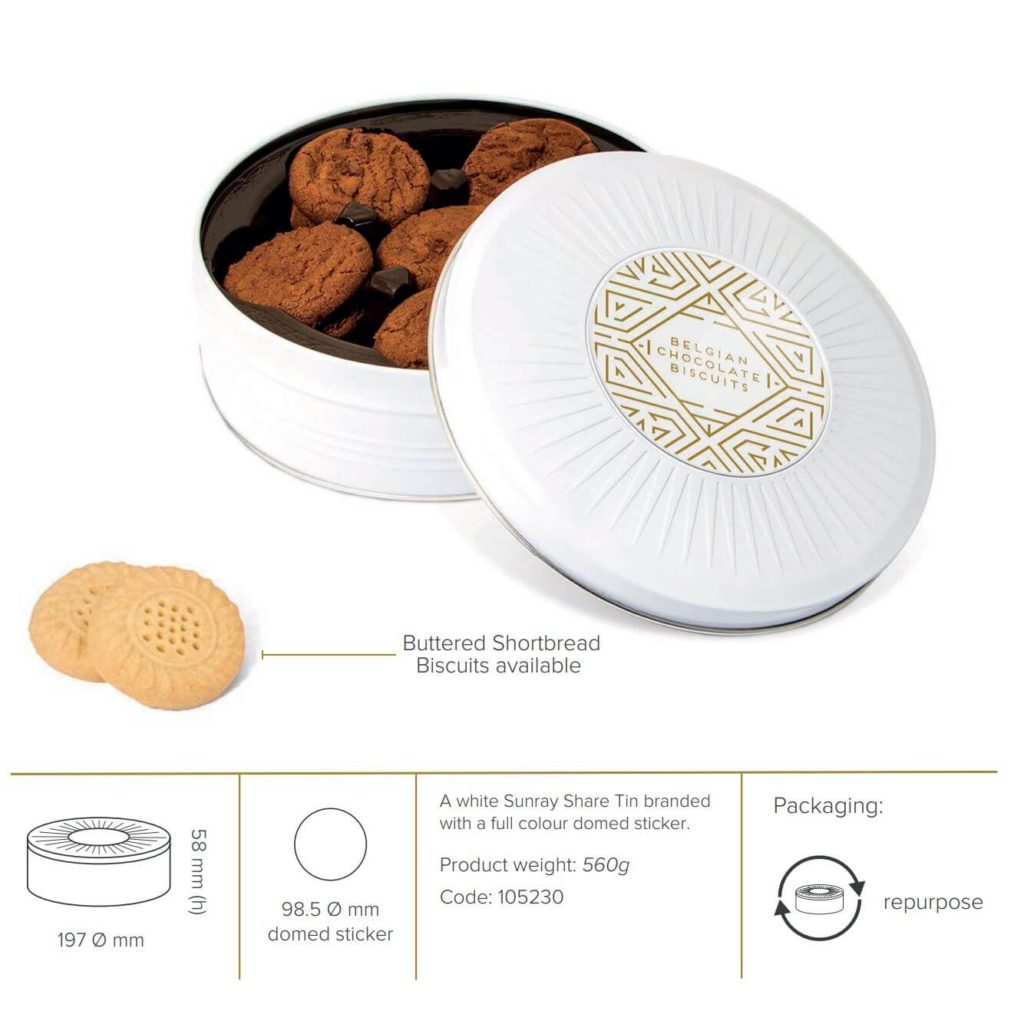 Christmas, All Wrapped Up
Not sure what to choose? Want to give your recipients a little of everything? Then our gift boxes, gift tins and hampers are the answer. Our gift boxes contain a selection of festive goodies and have a large, full-colour domed label on the lid. They're available in three sizes, from mini (containing a Bauble Tin of champagne truffles, a 20g Milk Chocolate Bar and two 7rmm Chocolate Medallions) to maxi (containing a Large Gold Tin of mince pies, a Snack Tin of Christmas pudding fudge, a 125mm Chocolate Medallion, a tray of Salted Caramels, Hot Choc on a Spoon, a Walnut Whirl, a tin of Chocolate Caviar Pearls and a Star Tin filled with foil-wrapped chocolate balls).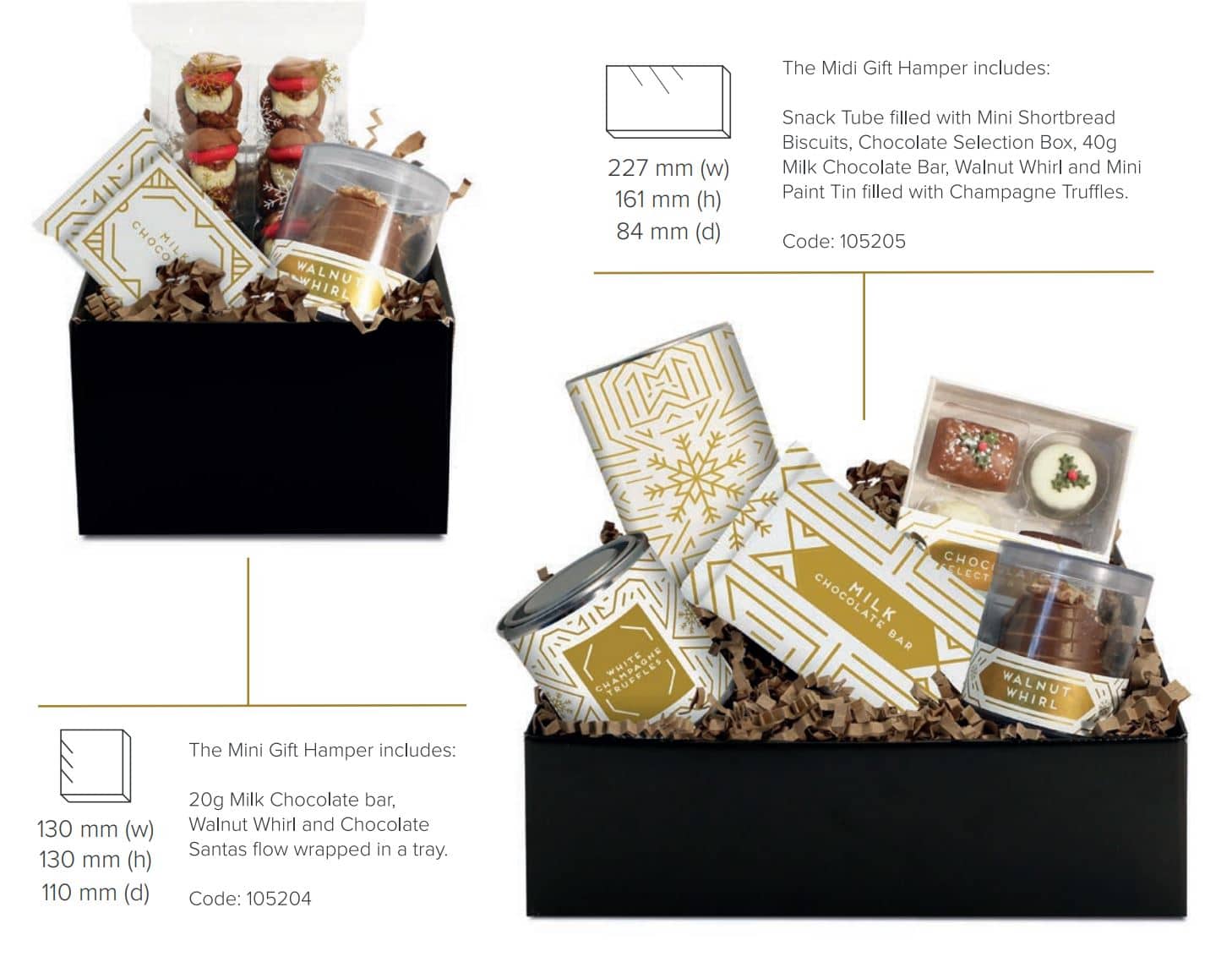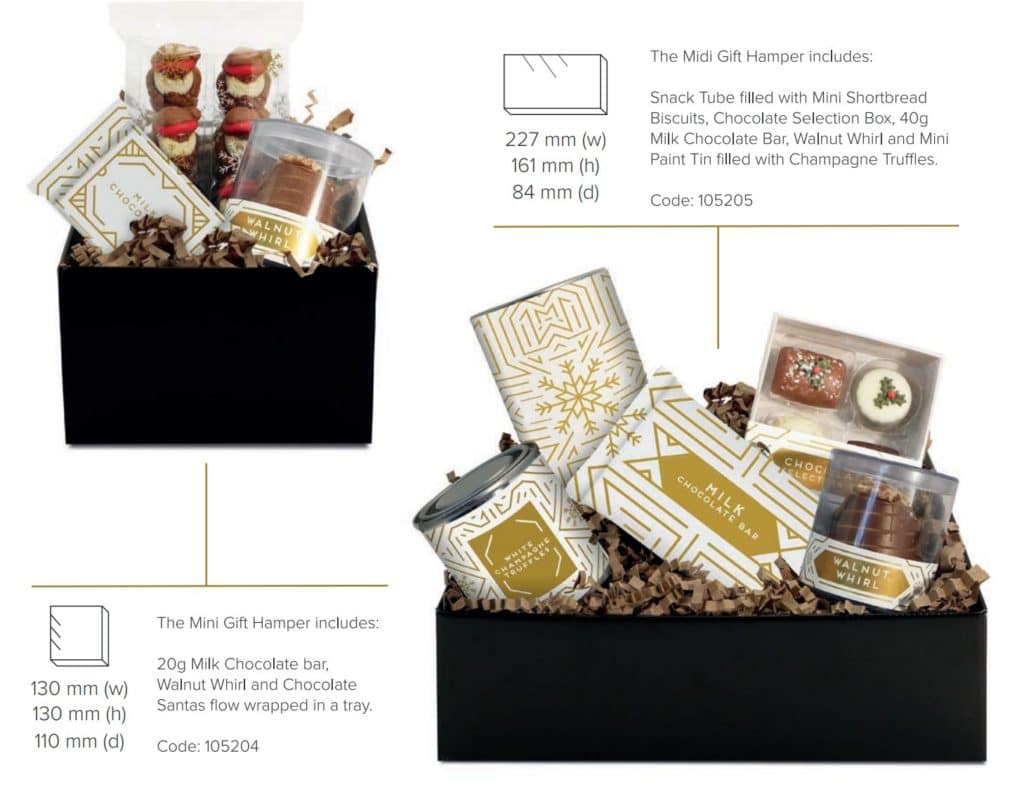 Our hampers also come in mini, midi and maxi sizes. They're tied and decorated with white ribbon and include a large, full-colour card tag for your branding. Our Midi Hamper includes a Snack Tube of mini shortbread biscuits, a Chocolate Selection Box, a 40g Milk Chocolate Bar, a Walnut Whirl and a Mini Paint Tin filled with champagne truffles.
Naturally, our branded Christmas confectionery range doesn't end there, so for more delicious festive treats and inspiration, download our colour Christmas Confectionery Brochure. For detailed pricing and advice on Christmas Confectionery or other festive gifts, get in touch by calling us on 0345 226 1701 or sending us an email.