Over the past couple of decades, international coffee chains have gained a foothold in the UK, bringing with them a bewildering but enticing range of hot and cold beverages and a trend for drinking on the go (and in some cases, an unfortunate aversion to paying UK tax… we won't name and shame. Ask the web!).
This takeover was good news and good timing for our taste buds, but bad news and bad timing for the environment and our understanding of the damage disposable plastic is doing to our world.
In the UK, we drink more than 25,000,000 takeaway coffees every day—and throw away 2,500,000,000 takeaway coffee cups a year (that's nearly 5,000 being thrown away every minute; scary, huh?). And if you're wondering why we can't just make more effort to recycle these un-environmentally friendly beasties, it's because of their polyethylene coating, which makes them tricky, and far too expensive, to recycle. Only 3 facilities in the UK can split the paper and plastic for recycling and this means less than 1% of these disposable cups are recycled.
MP's are calling for a 25p "latte levy" on disposable coffee cups and a total ban unless recycling improves. Some leading coffee shops already offer discounts for people who bring their own reusable coffee cups.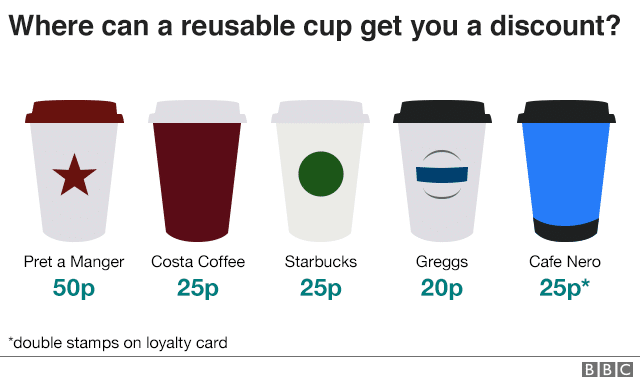 So what does this mean for you? It means that now is the perfect time to give your customers, clients and maybe even your staff an eco-friendly, branded, reusable travel mug. You'll be promoting your brand, helping to save the planet and giving a gift all at the same time—and it's even a gift that can save them money! Every time your recipients use their mug when buying a drink from these companies, they'll save money (and be reminded that it's all thanks to your company!).
Our promotional mugs are always a popular choice as they're used again and again, but branded coffee travel mugs make even better promotional items because they can be taken anywhere–ensuring your logo or message is also seen again and again, wherever the mug goes!
We offer a wide range of branded travel mugs, all with a large printing area and a choice of mug, lid and grip colour. With many, you also have the option of having a paper wrap around which allows for a massive area of branding or important information. We also stock reusable takeaway cups.
"But which mug do I chose?" we hear you ask. "You have so many!"
Here's our quick guide to the types of promotional coffee travel mugs and reusable cups we offer, and a look at our bestsellers in each category.
Branded Metal Travel Mugs
Our metal travel mugs are tough, branded insulated travel mugs that will keep your drink as hot or cold as it was when you bought it, and of course, a great eco-friendly option.
We stock this mug in deep blue and gunmetal colours, but can also order in lime or red on a longer lead time. While it's the most expensive of our metal travel mugs, it's popularity is due to its sleek look and handy grip strip, which make it a good-looking and practical choice.
Branded Plastic Travel Mugs
Now we know what you're thinking. How can branded plastic travel mugs be eco-friendly?
While it's true that plastic has got a bad name for itself, that's due to the difficulties and costs of recycling it and the effects it has on the environment when it breaks down. The real enemy is not plastic per se, but the disposable, single-use plastic items that are thrown away, filling up our landfills and polluting our oceans. Our plastic travel mugs are sturdily made and can be reused again and again, meaning they won't just be thrown away.
Branded Takeaway Coffee Mugs
Our branded takeaway mugs are travel mugs with that familiar takeaway cup look. They include our Americano mugs—a range that includes some of our bestselling promotional travel mugs due to the wide range of colours and branding options available, as well as the ability to print in up to six spot colours. These branded reusable coffee cups are dishwasher and microwave safe (and easy to care for equals frequently used, and therefore, frequently seen!). They're also BPA free.
Earthenware Branded Reusable Coffee Mugs
If you prefer something that's got the feel of a proper mug or cup and a little weight to it, then one of our earthenware branded reusable coffee cups is the answer.
This promotional coffee mug is also available in a 1 colour wrap around print style. Both styles have a minimum order of just 50, making them great options for smaller events or marketing campaigns.
Looking for branded reusable coffee mugs?
Still overwhelmed by all the choices? For advice on our huge range of travel mugs and available branding options, contact us now! We're on hand to ensure you get the right promotional products for your company, so email us or call us on 0345 226 1701 today.