What is the bPay powerbank?
This month our trending product is the new bPay powerbank. It combines the benefits of a portable powerbank with a contactless payment device. The powerbank payment fob features a 450mAh battery and a built in 2-in-1 charging cable, compatible with both lightning and Micro-USB devise. All you need to do is twist the cable end to fit your device.
The bPay links to any Visa or MasterCard debit or credit card registered in the UK and can be used for any purchases £30 and under. You can also monitor your spending and top up your account by using the bPay app.
And it's completely brandable!
bPay Features
450mAh battery – emergency power when your battery is critically low.
Lightning & Micro-USB – compatible with iPhone Lighting and Micro-USB devices.
Charge your devices – flexi-cable for easy accessibility.
Built in bPay chip – the bPay chip doesn't require power, mobile signal or phone connectivity so you won't need to worry if the battery is flat.
You don't need a Barclays account – bPay links to any Visa or MasterCard debit or credit card.
bPay is just as safe as chip and pin – all payments have the same fraud protection applied as contactless cards.
bPay on transport in London – bPay can be used on the London overground, tube, DLR tram and buses.
Branding the bPay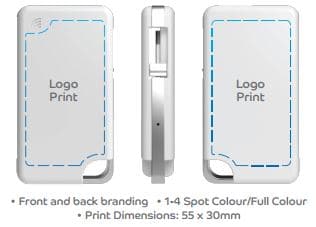 The bPay comes in several standard colours
Print dimensions – 55 x 30mm
1-4 spot colour print or a full colour print
Pantone match colour for orders over 1,000 units
Cable pantone match colour for orders over 5,000 units
Packaging the bPay
• Premium window box
• Magnetic window cover
• Soft touch finish
• 124 x 82.5 x 21mm
• Bespoke packaging for orders over 1,000

In April 2017 there were 416.3 million contactless transactions in the UK alone. Contactless payments are becoming increasingly popular so now is a brilliant time to give your clients a branded bPay powerbank to increase the visibility of your brand.
For further information about the bPay speak to one of the team by calling 0345 226 1701 or email us and we will be happy to help.